Northamptonshire County Council building work could begin in 2015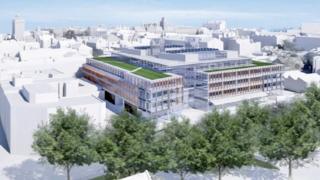 Work on a new £43m public building could begin in the centre of Northampton in 2015.
The county council wants to replace 12 out-of-town offices with a central base on Angel Street, which it claimed would save £54m in the long-run.
The council said it would be submitting a planning application to Northampton Borough Council in February.
It said it hoped a construction company could be selected to start the project a year later.
Northamptonshire County Council said 2,000 staff would work at the new office.
Six designs were considered by the council and the winning one was created by BDP architects.