Cynthia Spencer and Cransley hospices: No cuts until charity aid secured, says NHS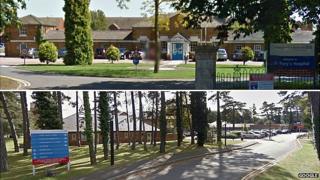 There will be no cutbacks at two Northamptonshire hospices until alternative charitable aid has been secured, the NHS has said.
The county council's Labour group said planned cuts to Kettering's Cransley and Northampton's Cynthia Spencer hospices could see clients "suffering".
Leader John McGhee welcomed the NHS's stance following a meeting, but blamed the government for its money problems.
The Department for Health said the NHS budget was protected.
The council's opposition Labour group met with the Corby and Nene Clinical Commissioning Groups (CCG) on Thursday to discuss savings at the hospices.
In April, the CCGs said they might have to make cutbacks of £2m, but the figure was withdrawn for further discussion.
'Black hole'
Currently the local NHS funds 70% (£3.1m) of the hospices, with charitable donations at 30%.
Mr McGhee said: "I welcome the CCGs' move to protect hospice services. However, I am extremely concerned about what has been described by the CCGs as a £39m 'black hole' in NHS finances in Northamptonshire.
"Nationally, the coalition government is saying that NHS funding is 'ring-fenced', but that masks the reality of the situation locally.
"It is unfortunate that Northamptonshire CCGs have been put in this position by national government."
A Department for Health spokesman said: "We have protected the NHS budget and funding will increase by £12.7bn over the course of this Parliament.
"We know the NHS is facing pressures, but it is in good financial health with the vast majority of hospitals expected to finish the year in surplus. Overall waiting times remain low and satisfaction with services remains high."
Both Cransley and Cynthia Spencer hospices provide care for people whose illnesses are no longer curable, including many cancer patients.