Cynthia Spencer and Cransley hospice patients 'will suffer' from cuts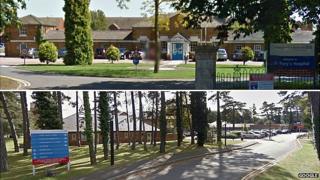 NHS cuts proposed at two Northamptonshire hospices will lead to patients and families "suffering", the Labour party has warned.
The service plans to cut funding at Kettering's Cransley and Northampton's Cynthia Spencer hospices to save money.
John McGhee, leader of the Labour group at the county council, said cutbacks "will affect the quality of services".
The NHS said it had to make savings, but had withdrawn its initial figure of £2m which will be discussed further.
A Nene Clinical Commissioning Group (NCCG) spokeswoman said it planned to meet Labour councillors on Thursday to try and answer their concerns.
Mr McGhee said: "It would seem from the clinical commissioning group's latest statement that once again the hard working people of Northamptonshire are being left to pick up the tab after cutbacks.
"There is no doubt in my mind that these cuts will affect the quality of the services being provided. Ultimately, patients and their families will suffer."
'Enhanced service'
An NCCG statement said: "In the original delivery plan a potential reduction in £2m of funding was mentioned.
"Following the ongoing engagement and feedback with hospice trustees, the original figures stated have been withdrawn.
"We continue to discuss what the alternative position should be, but are considering an enhanced service not a reduced one."
The NCCG said it hoped to fill any cutback in funding with an increase in charitable fundraising and by making changes to its services that reduce demand on its core funds.
It currently contributes 70% (£3.1m) towards the running costs of the hospices, with charitable trusts putting in 30%, which it says is out of proportion with the rest of the country.
Both hospices provide care for people whose illnesses are no longer curable, including many cancer patients.