Northampton Football Club agrees Sixfields redevelopment deal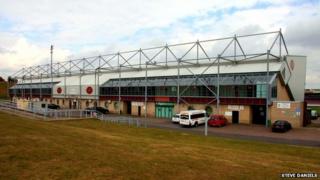 Northampton Town Football Club has agreed a deal with the local council that will see a multi-million pound redevelopment of its Sixfields Stadium.
Northampton Borough Council has promised to lend the club £12m for the work, which would see capacity increase by 2,000, to about 10,000.
Coventry City are also set to begin a three season groundshare at the improved stadium, reports BBC Sport.
Neither club has made an official announcement regarding the move.
Plans for the site's developments are expected to be submitted in the autumn, with work on the stadium due to be completed by next summer.
A new East Stand would be built, along with a hotel and conference centre.
David Cardoza, chairman of the football club, said the inclusion of leisure facilities would help generate income all year round.
Housing and shops would also be built nearby.
'Increase and improve'
"The plan is to make the club self-sufficient in the long term so it is not relying on any one individual," Mr Cardoza said.
"We have a fantastic infrastructure in place at the moment and this redevelopment will allow us to increase and improve that work in all areas."
The announcement was made after eight years of talks with the Conservative-run borough council,
Council leader David Mackintosh said: "The loan we are making to the football club is not money from the taxpayer.
"As a public authority we have access to funds that the football club don't have and the developments will pay for the stadium improvement.
"Until then, this loan will allow the club to get started."
The council will discuss the deal on 17 July.