Stonemason fined over Towcester boy's fireplace death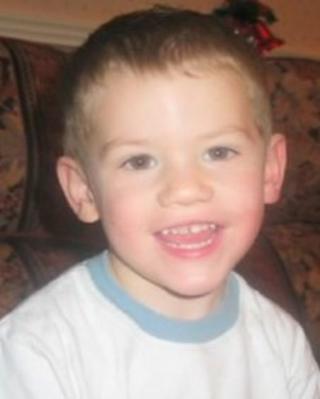 A stonemason who fitted a fireplace at a house in Northamptonshire that toppled over and killed a four-year-old boy has been fined £7,500.
Matthew Green died at his home on Coulthard Close in Towcester in 2005.
The 110lb (50kg) fireplace was fitted by Kristian Childs, 42, who was trading under the name KD Childs Stonework of Luton.
Childs had pleaded guilty to health and safety offences at an earlier hearing at Northampton Crown Court.
The court heard the fireplace was held in place with small patches of mortar, rather than proper metal fixings, and it came away from the wall.
After the hearing, Matthew's father David said: "It's obviously been a very long eight years and a very difficult time for the whole family.
"We're relieved it's over."
'Precious son'
Matthew's mother Gail said: "Losing Matthew was devastating.
"We urge anyone involved with the installation of fireplaces to learn from what happened to our precious son and take steps to ensure that they take the time and trouble to fit them properly.
"If they don't then lives will continue to be put at risk and Matthew's death will have been in vain."
The prosecution said Childs had "no formal training in construction" and that "his staff were poorly trained in the installation [of fireplaces]".
Persimmon Homes, which sold the house to the Green family in 2003, was initially charged with a health and safety breach but the case against the house-builder was dropped earlier this year.
Speaking after Wednesday's sentencing hearing, Alan Craddock, head of operations for the HSE's Midlands construction division, said: "This was a tragic incident, made so much worse by the fact it could have been so easily prevented.
"Mr Childs was well aware of the risks of falling fireplaces yet failed to take the correct steps to ensure the fireplace he fitted was safe, with appalling consequences."
The HSE said it had issued a safety bulletin about the installation of fireplace surrounds.
Childs was also ordered to pay £2,500 costs.