Northamptonshire displays designs for £43m council offices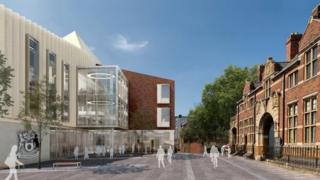 Six designs have gone on display for a new £43m building to house 2,500 staff at Northamptonshire County Council.
The Conservative-run council plans the new office building on a staff car park, in Angel Street, Northampton.
"The building will dramatically reduce energy and running costs, carbon emissions, and allow more efficient ways of working," the council said.
The Labour opposition are backing the scheme but say any decision on design should be made by the residents.
The designs can be seen on the council's website and the council claims the project will not add one penny onto Northamptonshire's tax bill.
"Building design proposals have been submitted by each of the six competing design teams as part of the procurement process," the council said.
'Pie in the sky'
The feedback from the consultation now under way will be considered by the council's cabinet.
The selected design team will assess residents' comments before the final building plans are produced.
John McGhee, Labour leader, said it was an extremely important project for the town which is why the group supported it.
"One or two of the designs are pie in the sky," he said but would not be drawn on which.
"It is up to the people of Northamptonshire to decide in a true and proper consultation.
"An outside café area is an attractive feature in a couple of designs so that people in the town can relax in the sunshine," he said.
The council wants to move staff from 12 out-of-town buildings to the centre of Northampton and said this would save £54m over 30 years in maintenance costs.