Fairline Boats: 60 jobs at risk in Corby and Oundle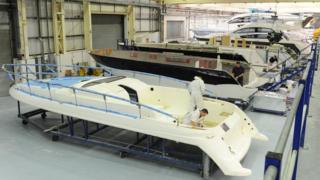 Up to 60 jobs are under threat at a luxury boat manufacturer which has two bases in Northamptonshire.
Fairline Boats, which employs about 700 people at Oundle and Corby, said it had invested £2.8m in streamlining production for more flexibility.
It declined to say which plants would be affected but the union Unite said it believed 50 production jobs and 10 staff posts were at risk.
The union was disappointed as the firm announced profits of £3.7m in 2012.
Improved productivity and a reduced cost base had brought these improvements and that had called for staff agreeing to changes in work practices, a spokesman said.
He added the union could "not understand the reasons behind these redundancies and also proposed pay cuts".
"The workers have supported the company through the previous loss making years by giving up pay increases, holidays and pension contributions to protect their jobs," he said.
Alistair Schofield, chief executive at Fairline Boats, said: "As a result of the changes we regret to announce that up to 60 staff may be at risk of redundancy across the business.
"Over the last 18 months we have made good progress with the business and are very pleased to have returned the company to profit in 2012."
Unionised members recently rejected a company proposal to reduce earnings by up to £2,380 for production staff.
The firm has shed more than 200 jobs over the past five years.
Fairline said its £2.8m investment at Corby allowed it to adapt from eight integrated production lines to three mixed model lines.
This streamlining brought a reassessment of the number of employees needed, it claimed.