Royal Doulton 'rare' figurines auctioned in Northamptonshire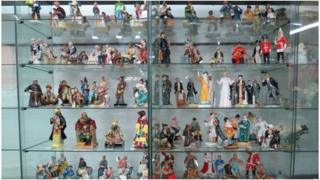 More than 2,000 Royal Doulton figurines - some described as "very rare" - are being auctioned in Northamptonshire.
They were collected over 50 years by a couple who could not face packing them all when they moved house, auctioneer Jonathan Humbert, from Towcester, said.
"Aficionados will recognise rare pieces such as the pearly king and queen, and the evacuees," he said.
The pieces, including hundreds of "Bunnykins", all in mint condition, are expected to fetch about £30,000.
Mr Humbert said: "We usually get about 10 or 15 Royal Doulton pieces at our auctions, but more often than not it's just the usual stuff.
"This is a quite unique collection and includes large figurines and a complete Robin Hood set.
"Royal Doulton had a habit of mass-producing items and then tantalisingly making just one - or a few - of others. Those are the ones people want."