Corby Council's regeneration schemes 'may have broken law'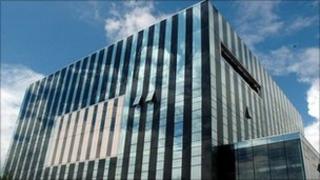 A council sold land now being developed by Tesco for millions of pounds below its market value, auditors have found.
Corby Borough Council "may have made decisions contrary to law" in its management of a £67m regeneration scheme, KPMG said.
The scheme included the sale of land at St James Industrial Estate for about a tenth of the market price.
Labour council leader Tom Beattie said the failings were unacceptable, but "a thing of the past".
The report for the Audit Commission found the authority sold 15 acres (6 hectares) of land at St James for "significantly less" than it could have done.
The council sold the land in October 2010 for £82,000, but a year later, with planning permission, it was worth between £6.9m and £9.7m, the report said.
The auditors also criticised the council's projects to develop the Cube civic offices, Kingswood estate and Rockingham Triangle sports complex.
Officers 'fearful'
Neil Bellamy, audit director of KPMG, said: "There is no doubting the very real benefits to Corby residents from the regeneration projects considered in this report.
"However, these were at the expense of good corporate and financial governance."
He said the council had made decisions without being fully aware of their financial impact, exposing it to "unnecessary and significant" financial risk.
In response, Mr Beattie said: "The report confirms the outcomes of our own investigations and endorses many of the steps we have already taken to improve accountability and oversight.
"It indicates that the steps the council has taken over the last 18 months have been the right ones.
"At the time when these projects were undertaken there was clearly a lack of oversight by elected members, weak project management procedures and a culture in which officers were fearful of questioning or drawing attention to practices which fall well short of the standards our residents expect of Corby Council.
"These issues are all being addressed."