Silverstone Grand Prix fans should 'forget sat navs'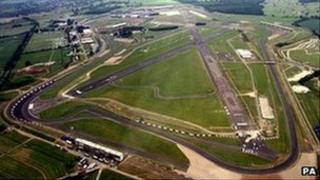 Police are telling motorsport fans to leave their satellite navigation systems at home and follow road signs for the Silverstone Grand Prix.
Road closures and temporary one-way systems mean drivers are advised to pay attention to signs on the on the motorways and main roads instead.
The largest weekend sporting event in the country runs from 28 to 30 June .
Last year about 120,000 fans went to Silverstone for the British Grand Prix.
Supt Sean Bell of Northamptonshire Police said: "Please leave your sat nav at home and follow event information signs which are clearly signposted on motorways and major trunk routes."
He said closing the A43 between Northampton and Oxford to through traffic for three days means arrangements have been made to help all road users over the weekend.
He advised fans to still allow extra time for journeys in and out of Silverstone and to be patient if there were delays.
Supt Bell also warned drivers that their vehicles would be towed away if they were abandoned on verges or roundabouts.