Delapre Abbey: Northampton Council bid for lottery £3.6m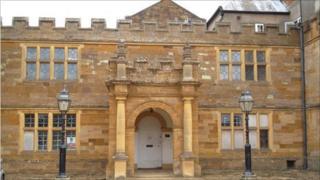 A bid has been submitted to the Heritage Lottery Fund for £3.6m to "transform" a Northampton landmark.
Restoration work and other changes at 850-year-old Delapre Abbey were revealed in February.
The money would be used to rebuild the conservatory, turn the stable block into a reception and classroom and open shops in the yard.
Northampton Council has also applied for planning permission and listed building consent.
It said it meant it would be ready to go ahead with the plans if the bid was approved in September.
Tim Hadland, cabinet member for regeneration, enterprise and planning said: "Delapre Abbey is a crucial part of our heritage, widely recognised for its significance and is also used by several local community groups and individuals from across the region.
"A successful bid will secure the funding to transform the abbey and its surroundings, improving this key heritage site for Northampton and the wider community, and ensuring that it has a sustainable future".