Irthlingborough's 'Battle of Waterloo' film celebrated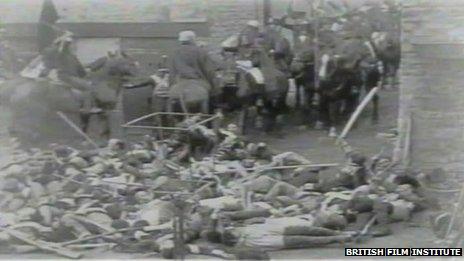 A film shot in Northamptonshire 100 years ago about the Battle of Waterloo is being re-enacted to celebrate the anniversary of its filming.
Filmed in 1913 in Irthlingborough, hundreds of local people were used as extras.
It was made by American Charles Weston who chose the town as the Duke of Wellington had said the countryside resembled the Waterloo battlefield.
On Sunday, soldiers and drummers will take part in a display about the film.
The film was lost for many years until a member of the Irthlingborough Historical Society saw a tiny fragment of it at an Italian film festival in 2002.
It turned out that about 22 minutes of it was still in existence at the British Film Institute (BFI) in London.
The society now has a copy that has been shown on many occasions to packed audiences.
Roy York, the historical society's chairman, said the film was regarded as a blockbuster in its day.
" It was only about 30 years since film-making had started with films of one or two minutes in length," he said.
"This was a real blockbuster and in excess of £5,000 was budgeted for the making of the film."
Many local men were recruited as extras for the film for seven shillings and sixpence a day.
So many people volunteered that two shoe factories in the town were closed during the production of the film.
This weekend, on the 100th anniversary of the start of filming, the Waterloo Drummers, a local drumming group, will march around the town.
There will also be displays by the East 44th Essex Regiment of Foot in the period costumes of the original Battle of Waterloo.
Related Internet Links
The BBC is not responsible for the content of external sites.