Daventry stabbing accused 'thought knife was wooden spoon'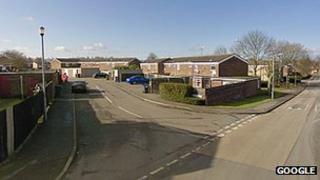 A man accused of stabbing his partner to death in Northamptonshire claims he thought he was defending himself with a wooden kitchen spoon during a row.
Errol Anglin, 47, of no fixed address, denies murdering Christine Levy, 36, at her home at Jervis Close, Daventry.
He said when she lunged at him he found he was holding a knife and she impaled herself, Northampton Crown Court heard.
Ms Levy was found with several stab wounds in Grenville Close on 11 December last year.
She had suffered deep wounds to many parts of her body, two of them to her chest, the court heard on Thursday.
Prosecutors said on the night she died there had been a big row between the couple and Mr Anglin picked up a knife and stabbed her repeatedly.
Mr Anglin had told police Ms Levy was chasing him through the house, shouting at him, hitting him, and he said he ran through the kitchen and picked up something to arm himself, the court heard.
He said he thought it was a wooden spoon but when he turned to face her she ran at him and impaled herself.
A crime scene investigator said she found a lot of blood through the house which suggested Ms Levy was stabbed there and escaped through the window.
The case continues.