Ding murder case judge's anger over interpreter no-show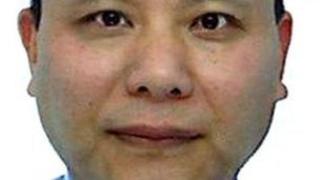 The failure of an interpreter to show up for a murder suspect's court appearance has been described as a "complete disgrace" by a judge.
Anxiang Du, 54, is accused of killing four members of the Ding family in Northampton in 2011.
No Mandarin interpreter was available, and Nottingham Crown Court heard it was "not worthwhile" for one to turn up as they would "not make enough money".
Mr Justice Flaux said: "To say I'm annoyed is an understatement."
A Capita spokeswoman said the firm at no time refused to provide an interpreter "on cost or any other grounds".
'Written explanation'
Anxiang Du, a Chinese businessman from Coventry, had been due to face a plea and case management hearing at the court. He is yet to enter a plea to the charges.
He is accused of killing Jifeng Ding, his wife Ge Chui and their two children, Alice, 12, and 18-year-old Xing.
The plea and case management hearing has now been provisionally set for 19 July with a trial due to begin on 12 November.
Mr Justice Flaux told the court he was not sure which company was at fault but that his clerk had been told it was "not worthwhile" for an interpreter to turn up for the hearing because they would "not make enough money".
"I will be asking for a written explanation to explain what has happened. It is a complete disgrace."
He said he had asked for an interpreter at the hearing, scheduled for 14:00 BST.
He was told one would be sent for 14:30 BST but they did not turn up.
The Capita spokeswoman said: "After the original interpreter booked to attend the hearing was unable to attend, Capita Translation and Interpreting worked to secure a replacement.
"The replacement interpreter could not attend until 2:30pm and we communicated this, in good time, to the court."
In 2011, the Ministry of Justice outsourced interpretation work to private firm Applied Language Solutions (ALS) in a bid to save £18m a year.
ALS was sold to Capita, an outsourcing and recruitment company, before the contract began.
'Utmost gravity'
The operation is now run as Capita Translation and Interpreting, providing services to courts across England and Wales.
In February of this year the Commons Justice Select Committee said the ministry's handling of the contract for court language services had been "shambolic".
The committee said interpreters had been failing to turn up, leading to cancelled trials, while others mistranslated evidence.
Anxiang Du was formally arrested in February after being discovered living on a building site in Morocco.
His extradition was approved by the Moroccan Ministry of Justice and the Home Office in the UK and he was flown back from Casablanca.
At a preliminary hearing at Northampton Crown Court days later, Judge Rupert Mayo told the suspect he faced charges of the "utmost gravity".
The Ding family were found stabbed to death at their home in Wootton in Northampton on 1 May 2011.