Northampton's £330m university campus deal struck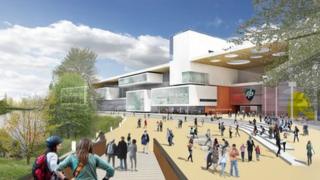 A £330m plan to build a university campus in Northampton is set to go ahead after the government approved a compulsory purchase order (CPO).
West Northamptonshire Development Corporation has already agreed the sale of the majority of the Avon Nunn Mills site with its three owners.
The CPO covers an additional seven hectares (17 acres) to enable an access road to be built through the site.
The University of Northampton hopes to start work on its new campus in 2015.
The CPO was approved by the Secretary of State for Communities and Local Government.
'Jewel in the crown'
Professor Nick Petford, vice-chancellor at the University of Northampton, said: "This compulsory purchase order places the university one step closer to realising our plans to create a state-of-the-art Waterside Campus, placing the university in the heart of the community."
Peter Mawson, West Northamptonshire Development Corporation's chief executive, described the university campus plan as "the jewel in the crown of an exciting regeneration programme".
The corporation had issued a CPO to buy the whole 30-hectare (74 acre) brownfield site in March 2012.
It was withdrawn after owners Avon Cosmetics, Taylor Wimpy UK Ltd and Persimmon Homes Ltd reached an agreement with the university.
However, the owner of seven hectares was unknown so a new CPO was needed.
As part of the deal, the university agreed to swap land at its current Park Campus for land owned by Taylor Wimpey and Persimmon at Avon Nunn Mills.
The university will submit a planning application this summer.