Corby parade for late soldier James Ashworth called off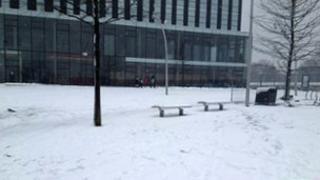 A parade organised to honour a young soldier who was posthumously awarded the Victoria Cross (VC) has been cancelled due to the weather.
L/Corp James Ashworth, 23, from Corby, Northamptonshire, died under enemy fire as he tried to eliminate an insurgent position in Afghanistan, last June.
More than 200 people were due to march in the town's George Street at 12:30 GMT.
"Disappointed" organisers said the parade will be reschedule for 6 April.
"We were very keen to go ahead despite the snow and slush, but we were advised by the Royal British Legion it was too dangerous to parade in this weather," said Rob McKellar.
"We wanted to proceed, just as our troops do in all weathers, but with a number of WWII veterans due to be in the parade we took the view it would be unsafe for them to be out in these conditions."
'Strength of pride'
Members of L/Corp Ashworth's family would have taken part in the parade, along with members of the Royal Navy Association, the Royal Air Force Association and others.
L/Corp Ashworth is the 1,361st soldier to be awarded the VC, and the first British soldier to be honoured in this way since Corporal Bryan Budd was honoured in 2006, also posthumously.
Mr McKellar added: "We wanted to mark the sheer magnitude of L/Corp Ashworth's award.
"There is a real strength of pride among local people and we felt it appropriate to honour him in this way."
The Victoria Cross was created in 29 January 1856 and is hand-made from bronze cannon captured from the Russians at the siege of Sevastopol in 1854-55 during the Crimean War.