Barnwell Manor wind farm: Conservationists win legal bid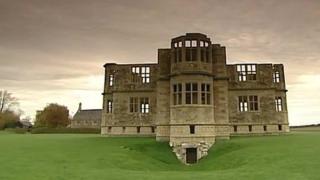 Conservationists have won a High Court battle against a wind farm in a case that could have "turned government policy on its head".
Plans for five turbines at Barnwell Manor, Sudborough, were rejected by East Northamptonshire District Council in 2010 following local opposition.
But developers Barnwell Manor Wind Energy won an appeal for four turbines.
Now Mrs Justice Lang has ruled the decision to give the go-ahead was legally flawed and must be quashed.
The four 300ft (91.4m) turbines would have been placed on the Barnwell Manor estate owned by the Duke of Gloucester, the Queen's cousin. He was not directly involved in the challenge.
There was concern over the proposed wind farm's impact on local panoramic views, and in particular the setting of the nearby Lyveden New Bield - a National Trust 17th Century lodge which has one of the finest surviving examples of an Elizabethan garden in the country.
'Significant heritage'
The council, English Heritage, the National Trust and residents took the case to the High Court, believing that if the developers built the wind farm it could have had implications for other national heritage sites.
The National Trust said the area of Northamptonshire they sought to protect had "a great many top-dollar heritage assets" and a defeat would have "turned government policy on conservation on its head".
The judge ruled there had been a failure by a public inquiry inspector "properly to interpret and apply the relevant planning policies on the effect of development on the setting of heritage sites, which meant that the balancing exercise was flawed".
National Trust representative Mark Bradshaw, said: "We are delighted with the outcome.
"We hope this brings to an end a five-year battle to preserve and protect the important setting of some of our most significant heritage assets."
Robert Tate, managing director of West Coast Energy, said: "We are extremely disappointed that the statutory challenge has been successful.
"Each wind farm proposal has to be considered on a case by case basis, but it seems that in the planning assessment of this case the inspector failed to properly carry out the planning balancing exercise."