Healthier Together: Future of hospitals to be decided locally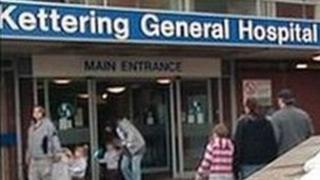 A group examining the future of services at five hospitals says decisions will now be made locally.
The NHS's Healthier Together was assessing the hospitals in Bedford, Kettering, Luton and Dunstable, Milton Keynes and Northampton.
But now it has announced new local clinical commissioning groups will assume responsibility for planning future health services.
MPs and campaigners welcomed it, having been concerned money was being wasted.
Healthier Together has been consulting on the future of health services across the South East Midlands for the past 18 months.
But concerns had been expressed the consultation was covering too wide an area and that services could suffer.
'Nothing's gone wrong'
The review had proposed offering paediatrics, obstetrics, and accident and emergency services at just two hospitals covering the area.
In a letter to hospital staff, Healthier Together chairman Dr Paul Hassan, wrote: "Given the changed NHS landscape, local NHS leaders across Bedfordshire, Luton, Northamptonshire and Milton Keynes have this week given their full support to plans for local CCGs, the new GP-led clinical commissioning groups, to lead the next phase of improving local health services."
Dr Hassan told the BBC: "I don't think anything has gone wrong. I think it's a recognition that we need to do this more locally."
Phillip Hollobone, Conservative MP for Kettering, said: "Decisions on the future configuration of our local hospital services will now be taken on a more local level and I think that's good news and will be appreciated by constituents in Kettering and across Northamptonshire."
Andrew Pakes, of Milton Keynes Labour Party, said: "The idea that patients from as far away as Northampton and Kettering should be travelling to Milton Keynes, or patients here should be travelling top Bedford simply didn't make much sense."
Andy Sawford, Labour MP for Corby, said: "It seems that Healthier Together has ended. I think it was the wrong approach to looking at health services in our area.
"It seems to have wasted millions of pounds and caused lots of worry. Now I hope that by working together with the local MPs and with the two hospitals in the county, we can find a better way forward for our hospital services."