Northamptonshire's Delapre Abbey in £3.6m restoration plan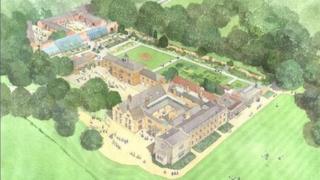 Plans for a £3.6m transformation of an 850-year-old abbey in Northampton have been revealed.
Delapre Abbey could undergo the restoration if the borough council's plans and bid for lottery funding are approved in the summer.
It is hoped parts of the main abbey would be restored for tours and events, and two stable blocks turned into visitor areas and small business units.
The work would be completed in phases and should take three years.
Councillor David Mackintosh, leader of Conservative-run Northampton Borough Council, said: "This is an exciting moment, with an amazing opportunity to win further funding and kick-start the restoration of Delapre Abbey."
The plans have cost £250,000 to draw up, paid for by the Heritage Lottery Fund (HLF), and the council will also bid to the organisation for the £3.6m.
Even if the full grant is made, there will still be a shortfall of more than £1m to be covered by the council.
The council hopes further funds will come from the Friends of Delapre Abbey and the Delapre Abbey Preservation Trust.