Bethany Probert crash payout at risk over hi-vis jacket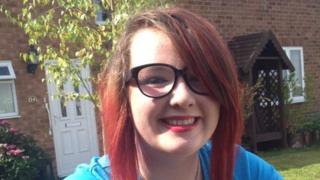 A teenage girl left with brain damage after she was hit by a car could lose out on compensation because she was not wearing a high-visibility jacket.
Bethany Probert, 16, of Silverstone, Northamptonshire, suffered life-changing injuries when she was hit by a car as she walked home in darkness.
A High Court judge has already cleared Bethany of any contributory negligence.
But Churchill, the insurer of the driver who hit her, has been given leave to appeal the decision.
In a written order, Lord Justice Ward said a key consideration was whether Bethany should have been wearing a high-visibility jacket.
Bethany was 13 when the accident happened in December 2009.
Found in ditch
She was walking home along Abthorpe Road, Silverstone, from a riding stables where she had been to see her horse, Troy.
She was hit by a Saab 9-3 driven by Paul Moore, of Wappenham, near Towcester, who was on his way to work at the Silverstone racing circuit.
He moved aside to make way for oncoming vehicles but hit Bethany without seeing her.
He kept searching until he found her in a ditch.
Bethany was taken to hospital where doctors told her mother, Jo Twyman, she would not survive, but within a month she was home.
However, Bethany suffers from a number of health problems, including physical disabilities and memory loss.
She is seeking compensation of between £3m and £5m, to pay for a specially-adapted bungalow and for ongoing care.
'Very bright kid'
In July the High Court held Mr Moore's insurer fully liable.
But Churchill has now been granted leave to appeal by Lord Justice Ward, who wrote: "The crux of the matter seems to be whether she should have set off at all (and I think the appellant will have difficulty about this) and whether she should have been wearing some visibility jacket."
A spokesperson for Churchill Insurance said: "While we accept that our insured was liable in part for the accident, we are appealing the decision that he was entirely to blame."
Mrs Twyman, 51, said: "Before the accident, Bethany was just a normal teenager. She was a very bright kid - an A* student - who loved being outside."
Since the crash, Bethany has suffered numerous problems, including memory loss, balance problems and seizures. She uses a wheelchair some of the time.
"She's a very strong, determined child and fights all the way. She feels guilty that she has put this pressure on us but it's not her fault," said Mrs Twyman.
"You can drive round any village and where do you see teenagers congregating socially wearing high-visibility jackets?
"I just want to be able to plan Bethany's future and our lives, give her what she needs and move on."
Bethany's solicitor Richard Langton, of Slater & Gordon, said: "We're reasonably confident that the appeal will be rejected, but it could be six to 18 months before the case comes before the Court of Appeal.
"We will ask if the court can speed things up because of Bethany's needs."