Northamptonshire PCC Adam Simmonds sets 'first' reservist budget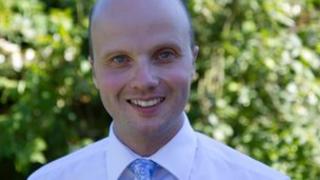 Police and Crime Commissioner for Northamptonshire Adam Simmonds has set a budget to establish the British mainland's first reservist force.
His idea is for an on-call force of police officers based on retained firefighters or the Territorial Army.
The reservists attached to police stations would have civilian jobs.
Northamptonshire County Council Lib Dem opposition said reservists would be paid 20 days a year and regular police numbers cut to fund them.
Mr Simmonds idea is for reservists to be called upon in a emergencies and they would be paid unlike special constables who are unpaid volunteers.
He sees the reservists as an important component in the fight against rural crime so common across Northamptonshire.
The reservists would be introduced slowly but the force would grow to about 200 members within two or three years.
Budget criticism
Members of the force would be attached to police stations to patrol towns and the countryside as required.
Mr Simmonds' £123m budget for 2013-14 will include £264,000 to begin to create this force of police reservists.
He also aims to increase the numbers of police cadets and special constables across the county.
"All of this will add to visible policing, something which local people have told me they want to see," he said.
Leader of the Liberal Democrat opposition and member of the Police and Crime Panel, Brendan Glynane, has criticised the budget.
"The previous year's budget contained enough money for 1,265 full-time officers and the new budget will only fund 1,220," he said.
Mr Glynane also said the commissioner's office was now staffed with several political aides on salaries up to £65,000 a year and would cost £796,000.
"The much heralded police reserve force will consist of people paid to work 20 days a year.
"I am really disappointed that the Conservative PCC has not listened to the wave of criticism from the public, media and Liberal Democrats and is still hell bent on spending £796,000 on his back office.
"He has chosen to fund a reserve force rather than 45 full time officers, pounding the beat all year round."