Northampton General Hospital to build maternity unit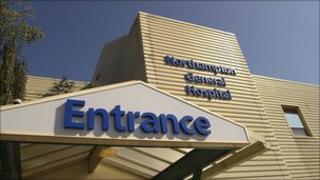 A new midwife-led maternity unit is to be built at Northampton General Hospital.
The 12-bed department will aim to provide a "home-from-home environment" and will include en-suite facilities, beds for partners, and birthing pools.
The hospital said the ward was being built with £480,000 funding from the Department of Health and should open in the summer.
The existing maternity ward will also be refurbished as part of the project.
Ann Thomas, head of the midwifery, said the new facility would fill a "big gap" in services.
"We've already got a very successful home birth team working with ladies in the community and an obstetric unit, which is quite a medicalised way of having a baby," she said.
"A lot of ladies would like to give birth in that environment but don't necessarily want to have their baby at home."
The new maternity unit will have four birthing rooms and three pool rooms.