Northampton man, 74, 'beaten by teenagers' in snowball row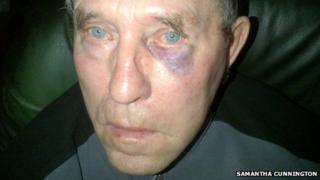 An elderly man said he was beaten and left wounded in an alleyway after confronting teenagers who hurled abuse and snowballs at his wife.
Brian Cox, 74, said he was punched and hit after chasing down youths in Northampton last Thursday, leaving him with a black eye and swollen face.
He said snow was thrown at his wife, Joy, 69, outside their home after she heard bangs on the front window.
He has appealed for witnesses after two arrested boys were released by police.
Mr Cox, a former lorry driver and school caretaker, said he first confronted a group of teenagers two days earlier when they threw snowballs at his window on Greenhills Close.
But then on the Thursday evening Mr Cox's wife heard more thumping on the window and went outside to see what was happening.
Mr Cox said they then "hurled abuse" and threw snow at her, before he confronted them for a second time.
'Hit on head'
"They gave me mouth and I said, 'You must think you're awfully funny'. We just wanted to sit in peace," he said.
"They then ran off and I chased them down the alley. I caught up with some of them and the next thing I knew I was hit on the side of the head.
"As I tried to get up I was punched in the mouth and the eye."
Mr Cox then rang the emergency services and gave statements to the police.
Soon afterwards two boys aged 14 and 17 were arrested but they were released without charge.
Mr Cox said he was now recovering, but had struggled to eat due to cuts on the inside of his mouth.
"I don't know what sort of world we're living in. I've lived here for 49 years and nothing like this has ever happened before," he said.
Mrs Cox said: "At first I was angry, but now I just feel jumpy and restless every time someone goes by. I've never been nervous before in my own house."
A Northamptonshire Police spokeswoman said: "This was a nasty attack on an elderly man and we would appeal for anyone with any information about it to come forward."