Historic Twywell cottages to be rebuilt after bulldozing error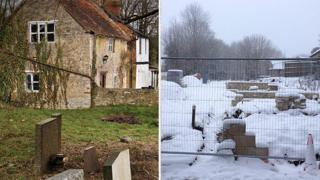 Two historic village cottages that were bulldozed in error by a building company will be rebuilt.
The 200-year-old homes, in Rectory Drive, Twywell, Northamptonshire, were knocked down last summer instead of being restored.
The firm's owner was fined for violating the listed buildings act.
Sylvia Hughes, of East Northamptonshire Council, said planning permission had been granted and she was confident the restoration would be successful.
The derelict cottages at numbers two and three Rectory Drive, next to the village church, were demolished last year while works were due to take place to restore the buildings.
Legal proceedings were lodged as the cottages fell in an English Heritage conservation area and the local council deemed the demolition to have caused "substantial harm" to the village's character and appearance.
'Great shame'
Alexander Dickson, 51, of Mill Lane, Main Street, Sudborough, was fined £5,000 for the mix-up and ordered to pay £2,500 in costs after pleading guilty to violating two sections of the Planning (Listed Buildings and Conservation Areas) Act 1990 at Northampton Magistrates' Court two weeks ago.
Ms Hughes said: "These cottages stood next to the village churchyard, in the heart of a newly-designated conservation area, so this demolition is a significant lapse in judgment and a great shame for the village of Twywell.
"We felt prosecution proceedings were justified in this instance due to the seriousness of the breaches.
"The thing now is to make sure that what is replaced will meet the standards we do expect."
Ms Hughes said parts of the cottages would be restored where possible or rebuilt in character with the rest of the village.
The council said it was not in the position to confirm who the owner was choosing to undertake the reconstruction work.
Mr Dickson, owner of A F Dickson builders, was unavailable for comment.