Artur Liana: Police fear missing man died in River Nene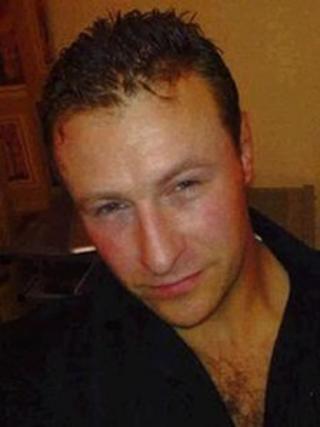 A 32-year-old man who went missing in December is thought to have fallen in the River Nene and been swept away, police said.
Artur Liana was last seen on 22 December during a night out in his hometown of Northampton.
Det Insp Louise Fleckney said police are working on the theory that he had "some sort of accident which may have caused his death".
A search of the River Nene has been called off for the moment.
CCTV footage showed Mr Liana outside the Borjia nightclub and soon after by the Goose on Two Streets pub.
Ms Fleckney said friends and colleagues were unanimous in saying Mr Liana's disappearance was "out of character".
"Sometimes when people go missing they clearly have an intention to harm themselves," she said.
'Busy town centre'
"There's no information at all to suggest this was Artur's intention.
"He appears to be a happy, hardworking young man. He had a steady job, he was a volunteer at the Northampton Credit Union, he had friends and he was looking forward to Christmas."
Ms Fleckney said the town was very busy with office parties on the night Mr Liana disappeared and there was a strong police presence.
"Had he been assaulted or fallen over and hurt himself, in a busy town centre, on a very busy evening, we would have expected Artur to have come to light if he had been laying injured somewhere needing help," she said.
Mr Liana's family have been updated on a "daily basis" and have been told that police believe he could have been swept away by the river.
"It's very distressing for the family to be informed of that," Ms Fleckney said.
"The fact that if Artur was alive they believe he would have contacted them by now, I think there's a degree of acceptance.
"But the best form of closure for anybody would be for Artur to be found."