Prince Charles in Northampton: Crockett & Jones gift of shoes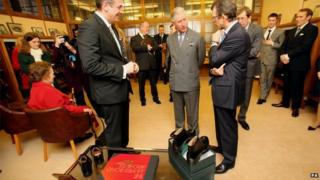 Prince Charles has been given a pair of boots for his sons during a visit to a factory in Northampton.
The Prince of Wales was given a tour of the Crockett & Jones plant which employs 250 people.
The company gave him two pairs of boots for princes William and Harry - the same style which were worn by 007 actor Daniel Craig in the movie Skyfall.
Jonathon Jones, managing director, said: "He was quite amused and we're also going to make a pair for Charles."
'Down-to-earth'
When presenting the boots to the prince, Mr Jones said: "We thought they would maybe like this style as it's very trendy and as Harry is coming back, he might be interested."
The prince replied: "That's very kind, marvellous."
Earlier in the day, the prince visited Middleport Pottery in Burslem, Staffordshire.
About 100 flag-waving wellwishers waited outside the Perry Street factory for the arrival of the prince.
Inside the building, the prince met 65-year-old John Harris, who has worked there for 48 years.
Mr Harris said: "He was very down-to-earth and seemed interested in the work."