Arthur Brumhill murder: Northamptonshire Police reopen case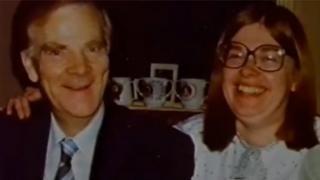 Detectives are to review the unsolved murder of a 76-year-old man found dead in a pet shop basement 20 years ago.
The body of Arthur Brumhill was discovered at the pet and garden shop where he worked in Northampton on January 21 1993.
Northamptonshire police are hoping new light will be shed on existing evidence by advances in forensics testing.
Mr Brumhill's daughter Sue Blake said: "Not a day goes by when I don't think of him."
A small amount of cash and a tyre lever were taken from the pet and garden centre in Wellingborough Road at the time of the death.
'Trauma and pain'
Det Insp Louise Hemingway said a number of items had been sent off for testing.
"Unfortunately not every murder is immediately solvable, but our commitment to bringing the offender to justice remains as strong as it did 20 years ago," she said.
"We never forget that behind every murder there is a family who continue to live with the trauma and pain such a death brings.
"Sadly, with Arthur's case remaining unsolved, his family have not had the opportunities to find the closure that most other families have."
Mrs Blake said her father's death had been "brutal" adding: "If anybody has any information they have been withholding over the past two decades for whatever reason, please, please come forward."