Northamptonshire snow: 110 schools shut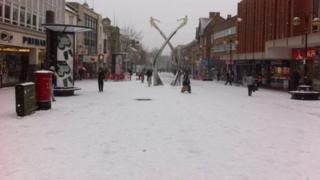 More than 110 schools have closed in Northamptonshire as snow started falling in the county.
The Met Office warned of significant snowfall in the county and has advised residents to prepare for disruption.
Some parts of the county have been put on an amber alert to "be prepared" as up to 10cm (4in) of snow could settle.
Gritting crews have treated the priority network roads overnight, and footpaths with the highest footfall have been salted.
Temperatures are expected to remain below freezing throughout the day.
Bacon rolls offer
Roadside grit bins have also been replenished.
The current forecast into Saturday is for light, patchy snow.
Rebecca Miller, from the county council, said: "Gritters are on standby at three depots and ploughs have been fitted because we are expecting snow as it is already spreading from the south west.
"We're waiting for the latest updates before sending them out again and we won't start ploughing until there's a good few centimetres of snow."
Northampton Town Football Club are offering bacon rolls and hot drinks as a reward to any volunteers who can help clear snow on Saturday morning, ahead of their match with Burton Albion.
"We've had the frost covers on for a week and a half so the pitch is fine underneath," a spokesperson for the League Two club said.
"The issue is we have to move today's snow from the covers."
The club has asked for volunteers to bring shovels and wheelbarrows, and to meet by the club shop from 08:00 GMT.
"The more the merrier," the spokesperson said.
Further details on school closures can be found here.