Premier Inn to create 50 jobs in new Northampton hotel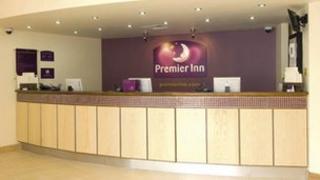 About 50 jobs are to be created in Northampton after plans were announced to build a hotel on council-owned land.
Whitbread has signed a lease with Northampton Borough Council to build a 104-bedroom Premier Inn and restaurant at Albion Place.
Council leader David Mackintosh said the development will help refresh a rundown area of the town.
The site is part of the Northampton Waterside Enterprise Zone, which was set up in 2011.
It is one of 24 enterprise zones in England, areas designated by the government for economic regeneration, offering simplified planning, business rate discounts and superfast broadband as commercial incentives.
Richard Pearson, acquisition manager for Whitbread Hotels and Restaurants, said: "Premier Inn customers will benefit from a central location and local businesses and attractions will gain as our guests go out to eat, drink and be entertained."
The company is expected to put in a planning application in the next few weeks.
If the application is approved, work will start by autumn 2013 with the hotel scheduled to open in autumn 2014.