Antique weapons stolen in Daventry burglary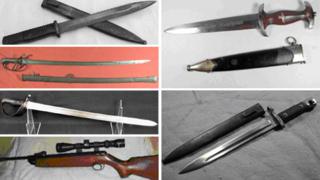 Antique bayonets, an early 19th Century cavalry sword and a Nazi dagger are among items being sought by police after a burglary in Northamptonshire.
Officers have released photographs of six items of militaria taken in a raid on a house in Catesby, near Daventry on 8 January between 10:00 and 16:00 GMT.
A spokesman said: "The items are old but could still prove dangerous."
Local auctioneer, Jonathan Humbert, said: "They are not particularly valuable, but there is a ready market."
The items taken were a German WWII Mauser bayonet, an inscribed Nazi NSKK dagger, an 1821 Pattern light cavalry sword, a British Pattern 1859 Naval cutlass bayonet, a Webley Vulcan .22 air rifle, and an 1895 Austrian Mannlicher bayonet.
'Stolen to order?'
The police spokesman added: "We don't think anyone is going to be running around brandishing a sword, but obviously we hope releasing photographs of the items will lead to their return."
Mr Humbert, managing director of Towcester-based JP Humbert Auctioneers Ltd, said: "There's a very ready currency for militaria and we hold three large international auctions each year.
"These items are not extraordinarily valuable but there is bigger money in early 19th Century artefacts as there are fewer of them on the market.
"But certainly this type of thing is not easy to get rid of unless it is legitimate or perhaps stolen to order."
More "conventional" items were also taken from the property, including a Blackberry, iPad and jewellery.