Play celebrates life of ground-breaking footballer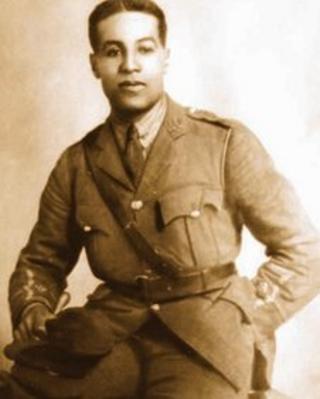 A theatre has commissioned a play about Walter Tull, one of England's first black footballers and the first black officer in the British Army.
The play about the former Tottenham and Northampton Town player will be staged at the Octagon Theatre, Bolton, in February.
Tull, who was killed aged 29 in World War I, was recommended for a Military Cross but never received one.
Playwright Phil Vasili said he hoped Tull's story would inspire people.
'Fantastic opportunity'
Mr Vasili's interest in Tull grew out of a PhD on the history of black footballers and he went on to write the footballer's biography.
More recently he has been working on a screenplay inspired by Tull, with the Octagon's artistic director, David Thacker.
When they could not secure funding for a film, Mr Thacker commissioned Mr Vasili to write the play, called Tull.
He said: "It's a fantastic opportunity to explore the issues that were current in the early part of the 20th century and still are now, like tolerance, the sort of society we want to live in and overcoming obstacles."
Tull joined Tottenham Hotspur in 1909, becoming the first black professional outfield footballer, but suffered racial abuse so moved onto Northampton the following year.
Somme death
Tull enlisted in the army in 1914, rose to become a 2nd Lieutenant and died in the Second Battle of the Somme in 1918.
He was recommended for the medal after he guided his platoon to safety when they came under heavy fire in Italy during World War I.
"At the time, in 1918, it was said that so long as the recommendation for a medal came before the death of the soldier it could be awarded posthumously," Mr Vasili said.
"But the law said officers could only be of pure European descent. However, in 1917 the British were severely short of men and Tull was experienced, a good leader of men and suitable officer material, so they broke the rules.
"If they'd awarded him the medal they would have de facto recognised they had made an illegal appointment."
The play coincides with a growing campaign to award Tull a posthumous Military Cross.
The author of War Horse, Michael Morpurgo, who has written a book inspired by Tull's story, called A Medal for Leroy, and Brian Binley, MP for Northampton South, are supporting the campaign.