Missing man Artur Liana's sister visits Northampton for investigation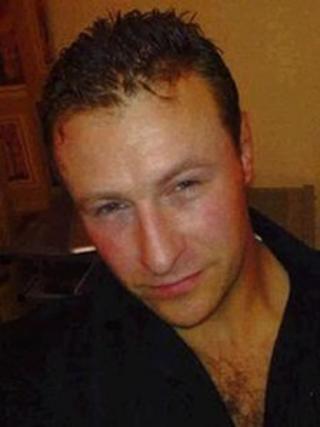 The sister of a missing Northampton man has been visiting from Poland to make a fresh appeal for information.
Artur Liana, 32, was last seen in the early hours of 22 December outside the town's Borjia nightclub and police have carried out searches of the area and River Nene.
His sister Magda Liana said: "It is completely out of character for him not to be in contact.
"I'm just hoping someone may have information that will help find him."
Police said Mr Liana, who had studied economics in Krakow, moved to the UK from south-east Poland more than five years ago.
He worked as a security guard in Northampton and was also volunteering as an intern at a bank with a view to getting a job in the financial sector.
'Hard to cope'
Police said more than 200 pieces of CCTV had been viewed but there had been no sightings.
The fire service helped search the river near Mr Liana's home between St Andrews Road and Becket's Park marina on Monday.
Ms Liana, who visited the town with her cousin, said: "Artur is a very friendly person and he loves his life.
"It's extremely hard to cope with, especially at Christmas.
"We were waiting for the phone calls and we still don't know if he is alive or what has happened to him."
Mr Liana was wearing a dark suit jacket with a lighter-coloured shirt, smart casual trousers and black shoes.