Northampton South MP Brian Binley reveals he has cancer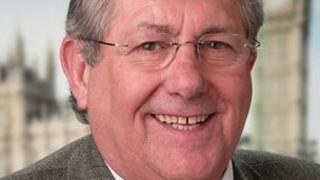 The 70-year-old MP for Northampton South, Brian Binley, has revealed he is suffering from a form of cancer and is to undergo chemotherapy.
Mr Binley, who has represented the constituency since 2005, has low-grade lymphoma affecting white blood cells.
The MP noticed a lump in his neck two years ago and it has now been diagnosed as cancer of the lymph system.
Because the treatment would mean some hair loss he decided to share details of his illness before this happened.
Mr Binley said he had nothing but praise for the doctors and staff at Northampton General Hospital, who have told him the condition is manageable and the treatment would result in remission.