Northampton EMS missed bin collections criticised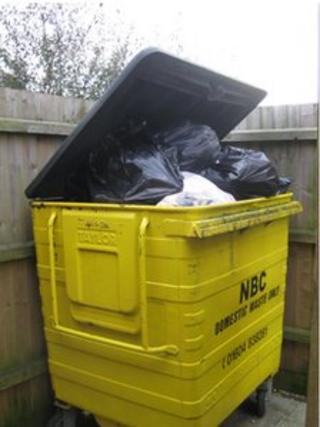 A £7m-a-year waste contract signed by a council is in "a mess", it has been claimed.
Enterprise Management Services (EMS) started collecting bins and cleaning streets in a deal with Daventry and Northampton councils in 2011.
A report said missed bin collections were a "significant failure".
Northampton Borough Council confirmed there had been problems over Christmas but said improvements had been made. EMS declined to comment.
Daventry Council said it had received 594 complaints about bin collections since April 2011, of which 159 were about bins not being emptied.
Northampton council - which is far larger than Daventry - said between April and November last year, it had 2,771 missed bin reports.
The problems led Conservative-run Northampton Borough Council to commission Beasley Associates to review the contract. That independent report, which cost £5,750, will be looked at on Monday by the authority's audit committee.
Key figures in the report have been redacted at the request of EMS, according to the council. The blacked-out figures include the value of the contract, expected savings, staff numbers and number of delivery rounds.
Northampton council later confirmed the contract was worth £50m over seven years.
However, the report's author Dr Jane Beasley said the number of missed bins was the "most significant failure".
One issue cited by Dr Beasley was the use of agency staff which meant crews did not become "established" or "know their rounds sufficiently".
'Ongoing problem'
Terry Wire, leader of the council's opposition Labour group, claimed the council rushed into the deal.
"It is a mess," said Mr Wire, who claimed EMS had missed a collection in his street last month.
"Quite frankly, this contract was gone into in 2011 about six weeks before the election.
"As far as we are concerned, the i's were not dotted nor t's crossed."
Sally Nicholson said waste in her block of flats in Northampton had not been collected for three weeks.
"It has been an ongoing problem," she said. "It used to be as regular as clockwork.
"I live in a block of flats and the bins fill up so quickly. What are we supposed to do when they are full?"
David Mackintosh, leader of Northampton Borough Council, said: "Because of the issues we experienced with Enterprise, we commissioned the Beasley review and the performance since then has seen some improvements.
"There are still issues that need to be sorted though and we need to look at the confusion over how the Christmas arrangements were communicated to make sure that this doesn't happen again. We want to see an improvement in services going forward and will continue to monitor Enterprise's performance.
"The bottom line is we want Enterprise to provide the quality of service that we expect for people in Northampton. If the service doesn't come up to scratch then clearly they could face further financial deductions and we have made them aware of that."