Edith Mbuthia suspended by Nursing and Midwifery Council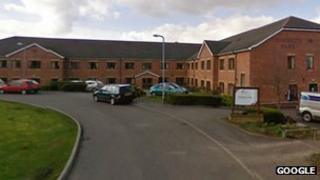 A nurse accused of using a patient's bank card to steal £2,100 has been suspended from practice for 18 months.
Edith Mbuthia, who worked at nursing home in Rushden, is also accused of trying to buy goods online using the resident's card last October.
She was arrested by Northamptonshire police in November, the Nursing and Midwifery Council (NMC) heard.
Miss Mbuthia, who worked at Rushden Park Nursing Home, took her profession "very seriously", the NMC was told.
The NMC issued the interim suspension order after it heard the allegations against her.
She is accused of making seven cash machine withdrawals of £300 between 17 and 28 October without the card owner's "consent or knowledge".
It is alleged she also tried to buy goods from electrical retailer Comet, but the card was declined.
Miss Mbuthia is expected to appear before magistrates in Northamptonshire later this month,
The Royal College of Nursing said Miss Mbuthia had "extensive nursing experience" in its submission to the NMC.