Middleton Cheney: Human remains on building site are ancient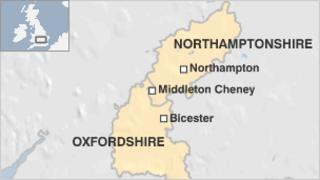 Human remains discovered on a building site in Northamptonshire are ancient, archaeologists confirmed.
Site workers in Main Road, Middleton Cheney, near Banbury found remains of two adults and a toddler, last month.
Archaeologists used carbon-dating to age the remains and say they date from between the Roman and post-medieval period, Northamptonshire Police said.
The bones are those of a woman, older than 45, a man aged between 35 and 45 and a child of up to two years old.
The remains were discovered in a single grave whose positioning was consistent with a Christian-style burial.
"All of the initial indications were that the remains had been at the site for a lengthy period of time and the results we have had from the archaeologists confirm this," said Det Sgt Sean Arbuthnot.
"We are still waiting for further results from carbon-dating which may give a more precise indication on the age of the remains, but we are satisfied that they are historic and there is no requirement for any further investigation from us."
The force will now contact the county's Historic Environment Record to inform officials of the discovery.