Reserve police force proposed for Northamptonshire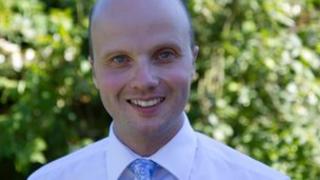 A 200-strong police reserve force could be introduced in Northamptonshire.
The idea is part of the draft five-year plan for the county's police force, set by the new Conservative Police and Crime Commissioner Adam Simmonds.
The reservists would work 20 days a year alongside police officers, the number of which would be kept at 1,220 full-time equivalents.
A public consultation on the plan, which also targets violent crime and drugs, runs until 15 January.
Mr Simmonds said the idea of a reserve force had come from looking at models in Northern Ireland and the Territorial Army.
"We have a good strength of police officers full time, no means what I'd like it to be, and then we have people who would like to be part of policing the county but don't have the available time with their work," he said.
'Visible presence'
"I thought 'what if we trained people who live and work in their community, maybe farmers or farmers' hands, who would like to be police officers'?"
He said the reserve officers would be contracted so they could be expected to be "called upon at a moment's notice".
"They would be in the community and could turn out within 10 minutes," he said.
Under the draft plan, 1,000 volunteers will be asked to "fight crime and create a visible presence" as part of a special constabulary and as volunteer wardens.
Mr Simmonds said he wanted Northamptonshire to be the "safest place in the country" and the draft plan set out a goal of reducing violent crime by at least 40%.
It also pledges to tackle alcohol related crime, domestic abuse, hate crime and "changing the wider culture in our society towards violence".
Northamptonshire Police Federation, which represents police officers, said Mr Simmonds's targets were "extremely ambitious".
Chairman Leonie Tromans said: "I don't suppose there is a police officer in the UK who wouldn't love to be part of the performance he seeks to achieve."
She backed the pledge to safeguard police officer numbers and said the idea of a reserve force was an "exciting proposition" - as long as the recruits were well equipped and trained.
Residents can view the draft plan and submit feedback via the Northamptonshire Police website.
The final version of the plan, which is a statutory requirement, will be adopted by the end of March.