Wellingborough crematorium given outline approval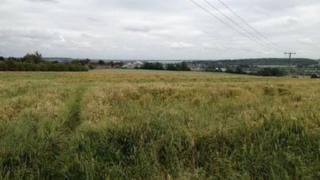 A new crematorium could be built in Northamptonshire after a council granted outline planning permission.
Mercia Crematoria wants to build a crematorium and woodland burial site near Doddington Road in Wellingborough.
Wellingborough Borough Council approved the initial plans, despite opposition from residents.
Kettering Borough Council had also strongly opposed the plans, saying the county was well served by its own Kettering Crematorium.
The council, which is spending £1.5m on replacing its two cremators, said there was no "actual need for further crematorium facilities within Northamptonshire at this time".
It said Kettering Crematorium, which is about 14 miles from the proposed site, could handle a "significantly increased demand for cremations".
Some residents had also objected to the plans, saying the crematorium would increase traffic congestion in the area and be an "eyesore".
But Co-operative Funeralcare, which said it would use the crematorium, said it would be "beneficial" to people who live in the area as it would "significantly reduce the journey times those families and their friends would face at such a difficult time".
Mercia Crematoria now has to submit a further application for the building work.