Council calls for Daventry ambulance hub as part of EMAS plans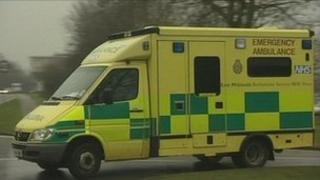 A council has expressed "concerns" over plans to close more than 50 ambulance stations in the East Midlands.
East Midlands Ambulance Service (EMAS) wants to replace 53 ambulance stations with 13 "hubs".
Northamptonshire County Council says the two stations proposed for Kettering and Northampton will not provide adequate cover for the county.
It has recommended EMAS adds a third, in Daventry, to serve the "M1, A45 and A5 corridor".
Councillor Marion Minney, member of the health and social care scrutiny committee, said: "We didn't think two hubs was enough in the county. Lincolnshire had six - we had two.
"When you're considering ambulance times for emergency care, the very edges of the county - down Daventry way - might not get the service they need."
'Reality of the situation'
EMAS says the plans also involve putting in place 131 standby and community ambulance across the six counties - Lincolnshire, Nottinghamshire, Derbyshire, Rutland, Leicestershire and Northamptonshire.
It said the bigger stations would provide a better service and that £30m would be saved by not having to modernise stations built in the 1950s and 1960s.
Response figures have shown EMAS has failed to meet government guidelines of ambulances being on the scene of less urgent call outs within 19 minutes.
Mrs Minney said she hoped the council's report highlighting its concerns would make EMAS aware of the "reality" of the situation.
"A lot of this has been designed on a computer-based model," she said.
"Sat-nav is a computer based model but it still takes you down village roads where you shouldn't be going."
EMAS's three-month consultation finished on 17 December. It will decide on the final plans in the new year.