Stanton Cross: Land deal over £500m development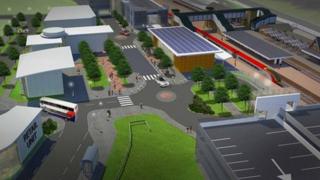 A £500m shopping and homes development in Northamptonshire is a step closer after a council agreed to buy a piece of land needed for a main road.
The Stanton Cross development in Wellingborough would include 3,200 new homes, shops, schools and offices.
The council said it acquired the land using a Compulsory Purchase Order (CPO) after talks failed between Bovis Homes and landowners.
The project, which could get under way next year, would create 2,000 jobs.
The area near Eastfield Road was the final plot needed by Bovis Homes to start the project.
The authority said the first phase of the development would see the building of Station Island, an office development as well as a new part of the railway station.
Leader of Wellingborough council Paul Bell said: "We have been waiting more than 15 years for Stanton Cross to get going. Now we have this land, we can get Route 4 (the main road) built and the whole development is opened up."
Wellingborough council gave planning permission to Bovis Homes in 2008.