Middleton Cheney bones from 'ancient burial site'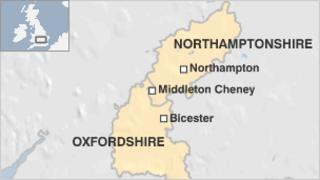 Two sets of human remains found on a building site in south Northamptonshire could be part of an ancient burial site, police said.
Site workers in Main Road, Middleton Cheney, discovered the first bones on Thursday morning before finding a second set on Friday.
The remains were removed and taken to specialists for carbon dating, which is expected to take several weeks.
Police said there was nothing suspicious surrounding the finds.
Carbon dating is a process that archaeologists and scientists use to find out how old artefacts, such as bones are.
It determines the age of ancient objects by means of measuring the amount of the carbon-14 isotope there is left in an object.
Det Insp Louise Fleckney said: "We have been working with archaeologists and, whilst we cannot know for sure until carbon dating has been carried out, the early indication is that this is an ancient burial site.
"Further inquiries may continue but we would like to reassure the public that we are treating the site as an ancient burial site rather than a crime scene."
Archaeologists said the bones found on Thursday are from a 25 to 45-year-old, but they have yet to determine if they are male or female.