Middleton Cheney: Human remains found on building site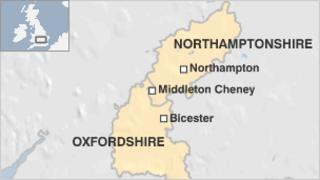 Two sets of human remains have been discovered on a building site in south Northamptonshire.
Site workers in Main Road, Middleton Cheney, discovered the first set of bones on Thursday morning. The second set of remains was found at 15:00 GMT.
Archaeologists said the bones found on Thursday are from a 25 to 45-year-old, but they have yet to determine if they are male or female.
The deaths are being treated as unexplained, said police.
Forensic examinations are under way to determine how the two people died, if their deaths were suspicious and how long the remains have been buried.
A police spokeswoman said the remains of the first body are thought to have been on the site for at least 50 years.
Northamptonshire Police will continue to work with archaeologists at the site throughout the weekend.