Corby double-fatal A43 crash suspect charged by police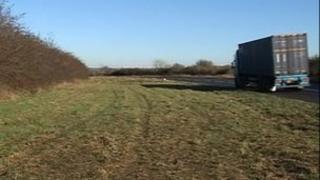 A man has been charged with causing death by dangerous driving after a crash in Northamptonshire left two men dead and two people critically injured.
The crash involving a Mazda 5 car and a DAF truck happened on Tuesday night, on the A43 near Corby.
A 22-year-old woman and a boy, two, remain in a serious condition in hospital. The two dead men were aged 21 and 28.
The 42-year-old man appeared before magistrates in Northampton.
He was also charged with causing death whilst disqualified and while uninsured.
The truck driver was unharmed in the crash, police said.