Horses moved from council land in Wellingborough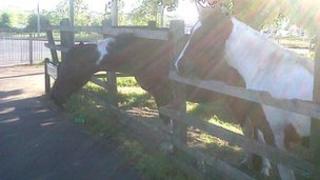 Horses grazing freely on public land in a Northamptonshire town have been moved into stables by a council, after their owners ignored notices to remove them.
Wellingborough council called in contractors to seize the 12 horses in fields off Niort Way in the town.
After being checked by a vet, they were taken to stables in Bristol.
The council said it would try to rehome them, but if that was not possible they could be sold. No owners have come forward to claim the animals.
Notices were served by the council in November after reported incidents of horses roaming local streets, damaging property and frightening children.
This led to 13 horses being removed by their owners but the council acted after 12 were left in the area.
Owners will be able to reclaim the horses if they pay a fee to cover the costs incurred by the council.