Northampton council could join Walter Tull medal campaign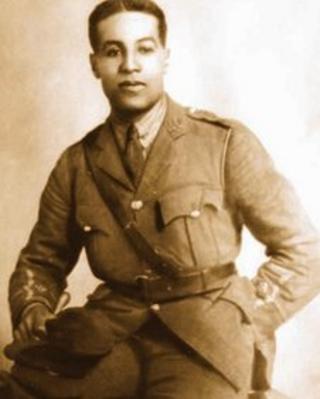 A campaign to award a black World War I officer a posthumous Military Cross could be set to receive backing from Northampton Borough Council.
Walter Tull, one of the first black footballers to play in England, led men in Italy during the war and was killed at aged 29 on the Somme in 1918.
Supporters said he was recommended for the medal but it was never given.
The Ministry of Defence (MoD) said no medals could be awarded "beyond five years after the event".
'Unfairly deprived'
The Military Cross is awarded in recognition of "exemplary gallantry" and is the third highest medal for bravery.
Mr Tull, a 2nd Lieutenant in the army, was recommended for the medal because he guided his platoon to safety after they came under heavy fire in Italy.
A full council meeting will vote on whether to support the medal campaign later.
If approved, the Conservative-run authority would write to Defence Secretary Philip Hammond to recommend that the issue be looked into.
Michael Morpurgo, who wrote A Medal for Leroy, a book inspired by Mr Tull's story, said: "Here we have a clear case of someone who, in my view, deserved a medal that he never got and we are going to ask the government to look at this."
Brian Binley, MP for Northampton South, said he had raised the issue in Parliament in 2008.
He said: "I think the man was unfairly deprived of the Military Cross which had been recommended by his regimental colonel.
"We were already turned down a few years ago by the MoD but since then there has been a growing campaign for this to happen."
An MoD spokesman said: "There can be no retrospection beyond five years after the event.
"It would be wrong to question the integrity of those commanders, who decided that a certain level of award should be made at that time under the prevailing circumstances."
As a footballer, Mr Tull joined Tottenham Hotspur in 1909, becoming the first black professional outfield footballer.
He moved to Northampton Town FC and played at half-back, scoring nine goals in 110 senior appearances.