Northampton heart attack man 'owes life' to paramedics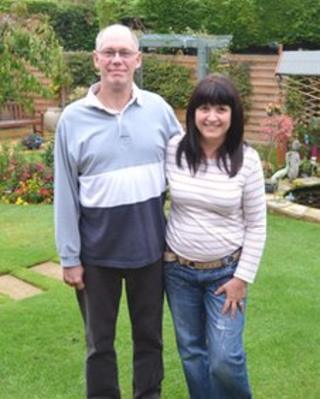 A Northampton man who was clinically dead for 80 minutes after suffering a heart attack, said he owed his life to paramedics.
John Thomson, 60, called 999 when he had chest pains while sat in bed.
Paramedics arrived at Mr Thomson's house within minutes and kept him alive while he was taken to hospital.
Since then he has made a full recovery. His cardiologist Dominic Cox called his experience when so near death, "remarkable".
Mr Thomson said he had ignored chest pains on two previous occasions, thinking it was nothing.
It was only on the third occasion that he called the emergency services.
'Absolutely marvellous'
He said: "The paramedic was here so quickly, I was still on the phone talking to the controller about my symptoms.
"For me the NHS was spot on, absolutely marvellous. Everything was in place at the hospital and it all worked splendidly.
"I owe my life to the whole team."
Harjot Singh who was the first paramedic on the scene said he was planning to take Mr Thomson to be checked over in hospital, but things took a turn for the worst.
"By the time the ambulance arrived just a few minutes later, the ECG had changed so much it showed John was having a heart attack," he said.
Hospital staff said Mr Thomson had to have an artificial heart pump to keep him alive while they operated.
Doctors had to unblock the vessel causing the heart attack, a spokesman said.
He was also kept in a drug-induced coma for nine days after the operation
Dr Cox, who did the operation said, he was not sure of Mr Thomson's chances when he came to the hospital.
He said: "It's very unusual to see someone who was dead for 80 minutes or so while being artificially supported and then make a full recovery from it.
"Everything just worked out perfectly for him and, if just one part of that chain had slipped, I don't think John would have survived.
"I've seen nothing like this before, and it's a really remarkable story."