Northamptonshire flood clear-up work continues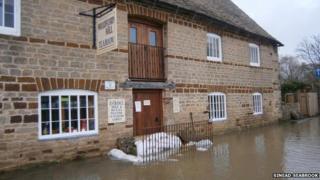 Clear-up efforts are continuing in Northamptonshire after floods affected homes and businesses in the county.
River levels were beginning to recede on Wednesday, but seven Environment Agency flood warnings remain in place.
They cover parts of the River Nene including areas around Wellingborough, Oundle, Billing Aquadrome and Cogenhoe Mill caravan site.
Flooded businesses include the Woodford Mill Tea Room at Great Addington, near Northampton, which was forced to shut.
Scott Seabrook, who helps run the tea room, said: "We're getting everything cleaned out and gutted and getting the old mill smell back again instead of a dampness, and just carrying on as usual."
'Difficult period'
Clive Hodgson-Jones, who owns the Willy Watt Marina on the Nene between Ringstead and Great Addington, said: "It's going to be very muddy when it (the flood water) goes down.
"The landing stage is going to be floated away but hopefully we will soon be able to clear it up and get going again. A few weeks and we should be there."
Northampton Spencer FC is appealing for help to restore its clubhouse at Kingsthorpe Mill, which was badly damaged in the floods.
The club's pitch is unplayable and its fixture against Rushden and Diamonds on Saturday has been called off.
Club secretary Jim Connolly said: "They have a massive following and they would have brought a lot of revenue to our club on Saturday, but unfortunately that's not going to take place.
"Their chairman tweeted us back and said what an old, great club we were and what nice people we are and he's put out an appeal to see if they can help raise money for us.
"I think it's fantastic. You're competitors, but they're out there and they do care about you."
Northamptonshire Police said Billing Aquadrome would reopen on Thursday lunchtime after residents were evacuated from their caravans last Thursday.
Peter Angelides, from Billing Aquadrome, said: "We have been working hard to get the Aquadrome back up and running following the flood.
"We'd like to thank everyone involved in the incident... for helping us through this difficult period."
Cogenhoe Mill Caravan Park, however, is to remain closed until further notice.
Norman Robinson, Environment Agency manager, said: "The risk of further immediate flooding is now low. However, everyone needs to remain vigilant though as more significant rain will cause further problems."