Flood warnings in Northamptonshire remain in place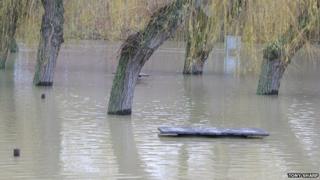 Eight flood warnings remain in place across Northamptonshire after a weekend of heavy rain, with some roads still under water.
The Environment Agency said heavy rainfall over the last few days has caused levels in the River Nene to "rise significantly".
A pensioner had to be rescued from his car, which was almost entirely immersed in water, in Wymington.
The trapped man had to be rescued by Northamptonshire Police officers.
He received medical treatment and was later arrested by Bedfordshire Police on suspicion of drink-driving.
'Don't take risks'
Police received a report of another incident involving a vehicle being trapped in flood water on Boddington Road in the Byfield area, by Boddington Lake.
The Fire Service rescued a woman from the roof of the vehicle.
Insp Lisa Wombell said: "Motorists are reminded of the dangers involved in taking risks when driving through areas which are subject to surface flooding. Please don't do it, take a diversion - your journey may take a little longer, but you will arrive safely."
People had to leave their homes at Billing Aquadrome last Thursday which is still subject to a flood warning.
The owners of the Aquadrome say the park will remain closed until Friday.
Another warning is in place at the Cogenhoe Mill Caravan Site.
Police say the A605 in Oundle is flooded between A427 Station Road and Church Street, and drivers have been warned to take care in Wellingborough.
'Full flows'
Simon Mitchell from the Environment Agency said: "Our ability to store water is now at its maximum capacity.
"That means that full flows are going down the river, so in the Wellingborough area there are another 170 houses which have been included in the flood warnings this morning."
The Woodford Mill tea room, Ringstead, was forced to close as more than an inch of water from the River Nene got inside the building.
Manager Sinead Seabrook said: "The river is our blessing the rest of the year, we just have to accept this."
The RSPCA said it had received "absolutely huge volumes of calls" from people concerned about horses and other animals in fields affected by flooding.
Michelle McNab, an RSPCA Inspector for Northamptonshire, said: "It is very difficult for people when they see animals in a very badly flooded field and feel like they shouldn't be there.
"But the logistics of moving these large animals are massive and we will only look at moving them if the owners are failing to do so after warnings or if there is an immediate risk to their safety."