Northampton's former malthouse site bought for new offices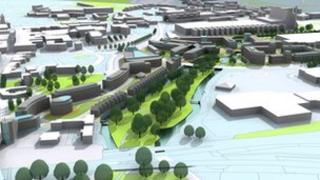 A derelict site in Northampton has been purchased as part of plans for a major riverside office development.
The West Northamptonshire Development Corporation (WNDC) bought the land near to the town's railway station for an undisclosed fee.
The publicly-funded regeneration body hopes the St Peter's Waterside scheme will address the shortage of "high quality" office space in the area.
An outline planning application has been submitted to the borough council.
Building work on the one-acre former malthouse site, which could include up to 40,000 sq-m (430.56 sq-ft) of office space, could start in 2014.
Messlorne LLP sold it to the WNDC for an undisclosed fee. Moves to issue a Compulsory Purchase Order on the site started in May.
The former malthouse site, which has been derelict for five years, is the latest piece of land purchased by WNDC for the development.
Chris Garden, WNDC's director of regeneration, said: "There is a clear shortage of high quality office space in the town centre.
"With its prominent setting next to the River Nene, St Peter's Waterside is an ideal office location. It is part of a growing commercial district with neighbouring regeneration projects on the immediate horizon."