Elephant abuse trial: Welfare expert 'saw distress'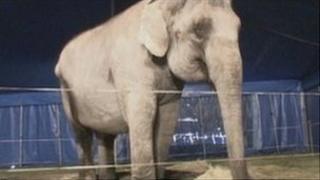 An expert who examined a circus elephant attacked in Northamptonshire told a court the animal had been in distress since her companion died.
Prof Donald Broom, from Cambridge University, said Anne the elephant's behaviour had revealed severe distress.
Circus owners Bobby and Moira Roberts, at Northampton Crown Court, deny causing unnecessary suffering to Anne.
The court saw a film of the attack on the Asian elephant at Polebrook by groom Nicolai Nitu who fled to Romania.
The 58-year-old animal was filmed by the Animal Defenders International (ADI) organisation being hit, punched, kicked and beaten with a pitchfork in a barn.
'Highly intelligent'
Prof Broom said that just because an animal had a thick skin, it did not mean it could not feel pain.
He said that elephants were highly-intelligent, social creatures and females especially needed to be kept with other elephants.
Anne's companion had died about 10 years before and she had been kept almost exclusively on her own since 2010, he said.
These conditions would have caused more distress than even the blows she suffered at the hands of the groom, Prof Broom said.
After watching hours of video, he discovered she made repetitive movements for about 90% of the time during daylight hours.
An animal displaying this behaviour only 5% of the time could be diagnosed as in severe distress, he said.
On Tuesday, Jan Creamer, chief executive of ADI, said the organisation had filmed the elephant as part of a project to discover how animals were cared for during the winter months.
'Proper channels'
She said she had released the film to the media first as the organisation thought it would be the quickest way to relieve the animal.
"I don't see what is wrong with what we did," she said.
Claire Howell, defending, accused her of using the video as a way of publicising ADI rather than the plight of Anne.
Ms Howell said releasing the film in this way could have prejudiced any future legal proceedings and said Ms Creamer should have gone through the the proper channels.
Mr Roberts, 69, of Bobby Roberts' Super Circus, was earlier said to have been in the south of England when the abuse came to light.
He said at that time he had instructed the groom only to chain the animal at certain times and to let her go outside.
The trial continues.